Matt Lucarello – Owner, Program Director, Performance Coach
Matt started out his athletic interest at a very young age taking to all sports including baseball, football, Track & Field, and wrestling, all of which he played through high school. During his college years at Rutgers University, he continued his athletic pursuits via the martial arts of Brazilian Jujitsu and Muay Thai, while earning a degree in Exercise Physiology.
Matt's fascination with the mechanics of the human body instilled in him a passion to pursue and earn a degree and licensure as a Physical Therapy Assistant as well as certification as a Message Therapist. This unique combination has led Matt into working with athletes of all ages and levels including NFL, MLB, WPS, D1/Ivy League athletes, and even gold medal winning Olympic athletes on team USA Soccer (women's) and Track & Field. Matt's talents and experience are now being utilized here at the Parisi Speed School of Morris where he evaluates and instructs young athletes on injury prevention and sports performance, helping them on their way to achieving higher levels of performance than they thought possible.
Specialties: Performance Evaluation, Return to Sport protocol, marathoners, and power-based sports.
Licensure/Certifications: Licensed Physical Therapy Assistant (with continued education focus in Speed/Agility and Runner's Rehab), Licensed Message Therapist, FMS, Parisi Performance Coach, Alloy Personal Training Solutions, CPR-BLS, ROTEXmotion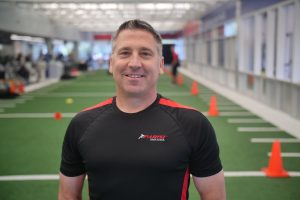 Jeff Boucher – Managing Partner, Performance Coach
Jeff grew up in East Hanover, NJ with a love of sports from as far back as he can remember. He has fond recollections of his dad as his coach, who also headed up the football and baseball programs for a number of years.
Jeff played football and baseball throughout his childhood years, which helped positively shape the person he became. When he got to Hanover Park High School he played football, but then became passionate about Tae Kwon Do and focused on that sport throughout his high school years and beyond.
Jeff started his coaching career in his early 20's and has enjoyed every minute of it for over 30 years now. He has coached football, baseball, softball and soccer from the kindergarten level right up through high school teams.
Jeff became passionate about performance training when he saw the improvement it made in kids he was working with. He went to work with Parisi Corporate developing the Parisi training network across the country for 5 years and then he, along with his partner Matt Lucarello, purchased the Parisi Morris location.
Jeff has been eager to help young people achieve their personal goals not only in athletics, but also in life. He spent many of his years working with youth in a variety of settings. He started an organization called Touch the World that took pre-teens and teens around the world building orphanages, schools and churches as well as developing leaders who would positively impact the upcoming generation.
Jeff's talents and experience are now being utilized here at the Parisi Speed School of Morris where he connects with youth and high school coaches and helps educate them on the value of evidence based performance methodologies that can help their athletes compete at the highest levels. He also presents seminars to parents on sports performance training and how to philosophically approach the wide world of youth sports.
Specialties: Communication, Motivation, Performance Training, Parent and Coach Education, business development. 

Terrence Fabor – Head Trainer, Elite Peak Performance Coach
Terrence is a graduate of Clifton High School where he played football as a middle linebacker for four years, three as a varsity player. In his senior year he recorded a personal best in Track & Field in the shot put (52 ft.) While at Clifton he earned All-League honors and was selected to the County All-Star Teams.
Terrence went on to play outside linebacker at the collegiate level at William Paterson University where he earned a bachelor degree in Exercise Physiology. Terrence is a veteran sports performance trainer of more than 17 years who has deep convictions that exercise and fitness improves one's lifestyle physically, mentally and emotionally. Terrence has trained athletes at the highest levels including: NCAA D1, D2 and D3, NFL, CFL, Olympics, IBL and MLL.
Specialties: Individuals and Teams at the Elite level
Certifications: Certified Performance Specialist by NASM, FMS, CPR, First Aid, Method, Alloy, USA Weightlifting Level 1, NSCA, Parisi Performance Coach Level 1
Luis Silva- Program Director of Parisi Speed School Parsippany, Performance Coach 
Coach Luis graduated with a B.S in Exercise Science and a concentration in Biomechanics and Strength & Conditioning, a Certified Personal Trainer from the National Academy of Sports Medicine, but his passion was always to become a  performance coach, based on his love for fitness and sports performance. After completing an 800 hour internship with Parisi Speed School in Morris while finishing his senior Year at Montclair State University, he was offered a position to become a Certified Performance Coach. With a background in Baseball and Wrestling in High School Luis believes exercise and fitness improves one's mental, emotional and physical life.
"As a Parisi Speed School Performance Coach it is my job to not only help young and old athletes improve their overall performance on the field, but to teach them good work ethic, self-confidence and respect both on and on the field"
Specialties: Adult Fitness, Wrestling, Baseball
Certifications: NASM CPT, FMS, Parisi Speed School Performance Coach

Mike Thwing – Performance Coach
Mike attended Jefferson Township High School and Competed year round in track.
He not only earned his varsity letters in all 4 years, but also received All State Honors. In addition, Mike played basketball for 2 years at the varsity level.
Mike later took his passion for track and field to Kean University where developed into a skillful and impactful player at the collegiate level. Mike graduated with a Bachelor degree in Fitness and now uses his knowledge to inspire and train young athletes into confident, skilled and passionate players. Mike's overall love for fitness makes him ideal to work with both kids and adults.
Specialties: Team Training, Adult Fitness, Track & Field (sprinting and jumping events), Basketball
Certifications: First Aid & CPR, AED, NCSF, Parisi Speed School Performance Coach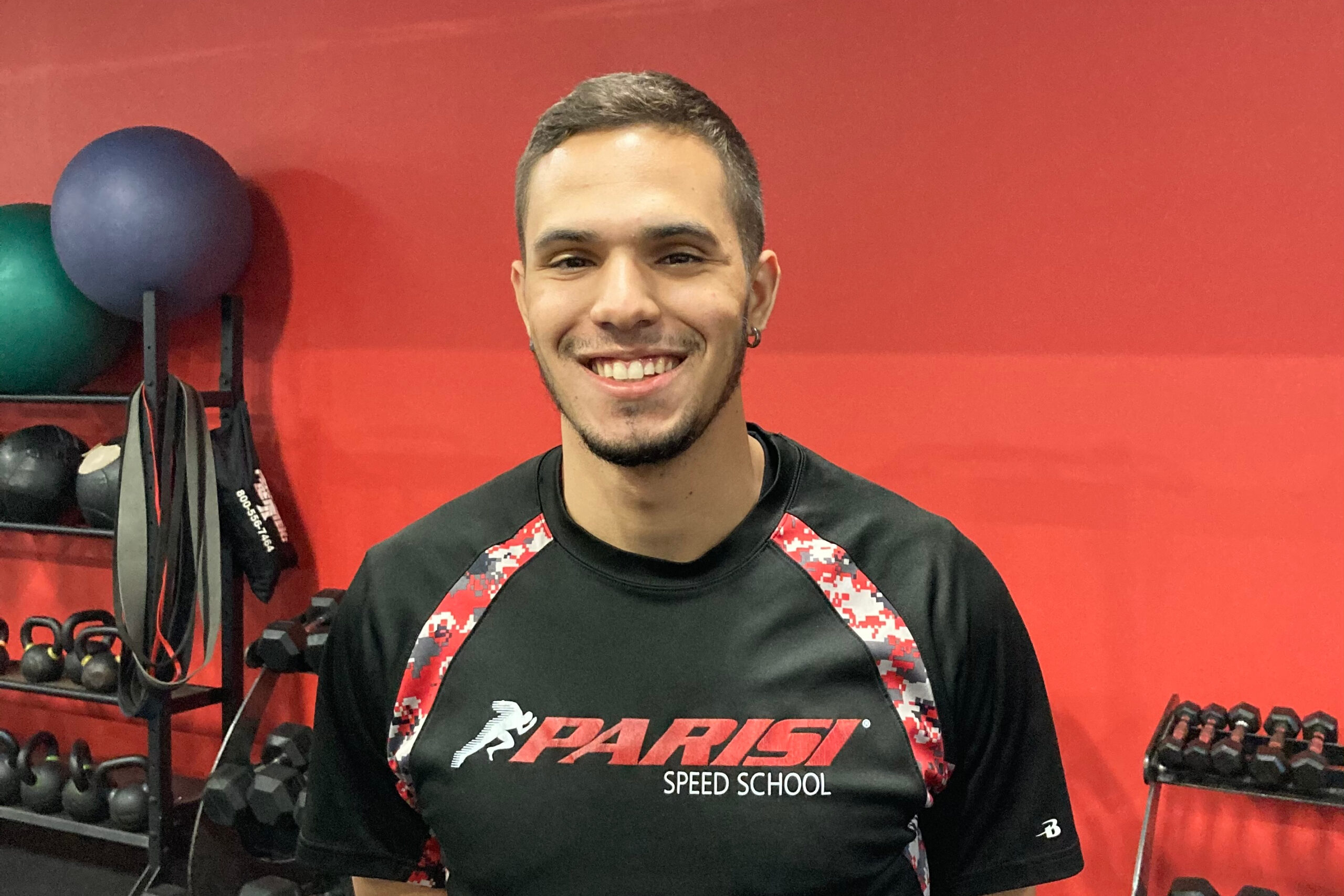 Ken Bucsko – Performance Coach
Since childhood, Ken has always been an active person. Ken initially grew up with martial arts, with a specific focus on taekwondo. Ken invested a lot of time with taekwondo and still to this day reaps the benefits in terms of flexibility. Heading into Ken's early teens he made a seamless transition to basketball, where he enjoyed the skill based game and had loads of fun with the movements involved with the game. The moment where Ken's athletic career made a drastic turn was when he tried out for his cross-country team heading into his freshman year of high school. Let's just say running and Ken have a connection, tied together through unique experiences he was only able to attain through the sport of track and field. Track has shaped his personality today. Through the sport, he came to understand pain; it made him tough. Ken came to understand patience;  that progression takes time, which is only achieved through hard work and consistency. Perhaps the most important lesson that track and field has given Ken is love. It is this reason that he continues to train outside of school, with the hope of one day representing Team USA on the track.
Once you understand Ken a little bit it makes sense to see why he went to college to study the human body and exercise physiology. Ken graduated from Rutgers University with a bachelor of science (B.S.) and ever since he has been on a mission to apply all his knowledge to aid young, hungry athletes in reaching their full potential. Along with Ken's formal education he is also a Certified Strength and Conditioning Specialist (CSCS) through the NSCA and a Certified Speed and Agility Coach (CSAC) through the NSPA. Ken truly loves the art of human movement and the process of coaching athletes to achieve the most efficient positions so that their full potential for power can be realized. Ken never had access to a facility like Parisi growing up, so he feels he missed out because so many kids see numerous benefits through this program. Ken also never had a coach that fully resonated with him on a personal level, which is why he takes his role as a coach so seriously. It is Ken's ultimate goal to prepare any athlete physically, mentally, and emotionally to perform to their best whether they are stepping out onto the field or court.
Specialties: Running Technique & Mechanics, Track & Field, and Martial-Arts 
Licensure/Certifications: CSCS, CSAC, Parisi Performance Coach Certification
Tatyana Butler – Performance Coach
Coach Tatyana graduated from Rowan University where she received her B.A in Health and Exercise Science and minor in Psychology. At Rowan she ran track and field where she was a 4x NJAC champion. She also played on two championship flag football teams. Before joining Parisi speed school she was an Assistant Strength Coach at RYPT. Coaching speed, agility, strength and injury prevention. Speed has always been apart of her life from when she was little running in AAU to breaking 10 High School records. Being a coach to her means giving athletes the best opportunity to reach there full potential and giving them the tools to be a great athlete and person on an off the field/court.
Specialties: Running Technique & Mechanics, Track & Field, Strength & Conditioning
Licensure/Certifications: Parisi Performance Coach Certification
Tyree Etienne – Performance Coach
Coach Tyree was a 4 year varsity soccer player in high school, 2 year captain and 2 time first team all district selection.  Tyree then received a full ride to play D1 at the #3 ranked junior college in the nation at Essex county college  making the NJCAA all conference team twice then received a scholarship to play D2 for Felician College. After his playing days Tyree coached for numerous soccer and basketball programs bringing championships to both sports. He has a passion to see kids become better athletes and also the best version of themselves even when it's not on the field but also in life and whatever profession your in.
Specialties: Running Technique & Mechanics, Soccer
Licensure/Certifications: Parisi Performance Coach Certification